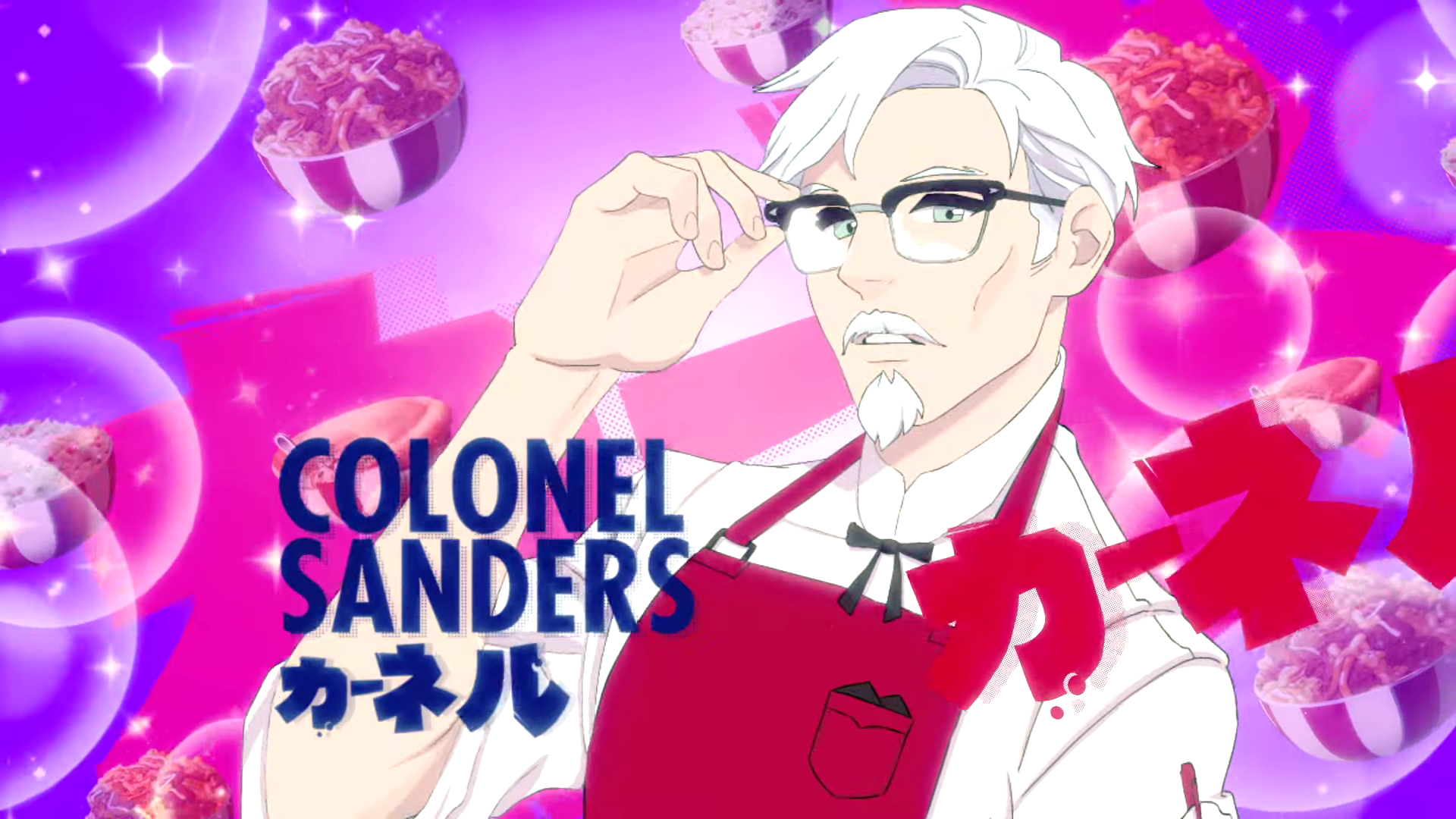 In Gaming
KFC's Colonel Sanders Dating Sim Is Here And I Still Can't Believe It Exists.
And it's free!
I came across the 'I Love You, Colonel Sanders! A Finger Lickin' Good Dating Simulator' steam page by developer 'Psyop' earlier this month and the first thing I thought of was "it's a fan-made parody game".
Oh boy, was I wrong. I scrolled down the steam page and saw this:
"Officially created by KFC. No, really".
I lost my freaking mind. I had to take a moment to digest that last bit. KFC actually greenlit a Colonel Sanders dating sim?! Oh my god.
Of course it's purely for marketing and notoriety, but it's still amazing that they funded something for such a niche gaming audience (although that also means it wouldn't have cost too much to make compared to something on a grander scale).
With Wendy's roasting people on Twitter and Arby's making stellar cardboard artwork, KFC needed to find their own way into the internet spotlight as well. They're indeed trying to stay 'hip and cool' with our meme loving generation (oh god, I sound like a grandma).
Admittingly, their marketing strategy is working because now I'm craving KFC right now (Don't judge me. I haven't had fast food in a while, okay?).
As visual novels gained popularity on Steam, they have become sort of a source of some of the internet's gaming memes. Remember when Doki Doki Literature Club took over social media? (I did a review on it regardless of the fact that its interest had declined). What about Asagao Academy, where you could date the Normal Boots gaming cast?
I haven't decided to download the game myself. My steam library is already chock full of yuri visual novels that I've yet to play and review. I definitely don't need to add more to that. And with visual novels currently on sale like Dating Life: Miley X Emily, it isn't making my decision any easier.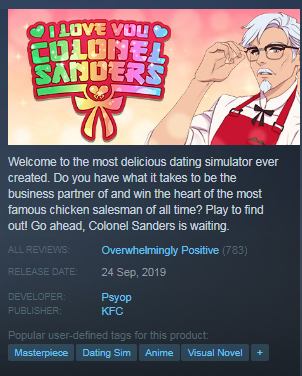 Players seem to be having a wonderful finger lickin' time with the Colonel dating sim as the game currently holds an 'Overwhelming Positive' score with 95% positive reviews on Steam at the time of writing this article.
However, "official" game reviewers aren't as impressed with it as Polygon says it's "not sexy … not sexy at all".
Considering how gaming journalism sites like Polygon and Kotaku have their shade of internet infamy, perhaps you may want to take their opinions with a grain of salt and enjoy KFC's shenanigans without remorse.
If you've started playing it, let me know what you think. If you haven't, download it on Steam for free.
---
✿ Special thanks to

Sophie Stormwind

for being my first patron and

Jessa Hurty, Mike

and

someone

for buying me my first coffees on Ko-Fi! ✿
✿ Special thanks to

Nat Roberts, Stephanie Elise, and Deanna & Maddison

for contributing to my Paypal in my time of desperate need! ✿
Love you all so much! o(TヘTo) *big kisses and hugs* ♥♥
Loading Likes...