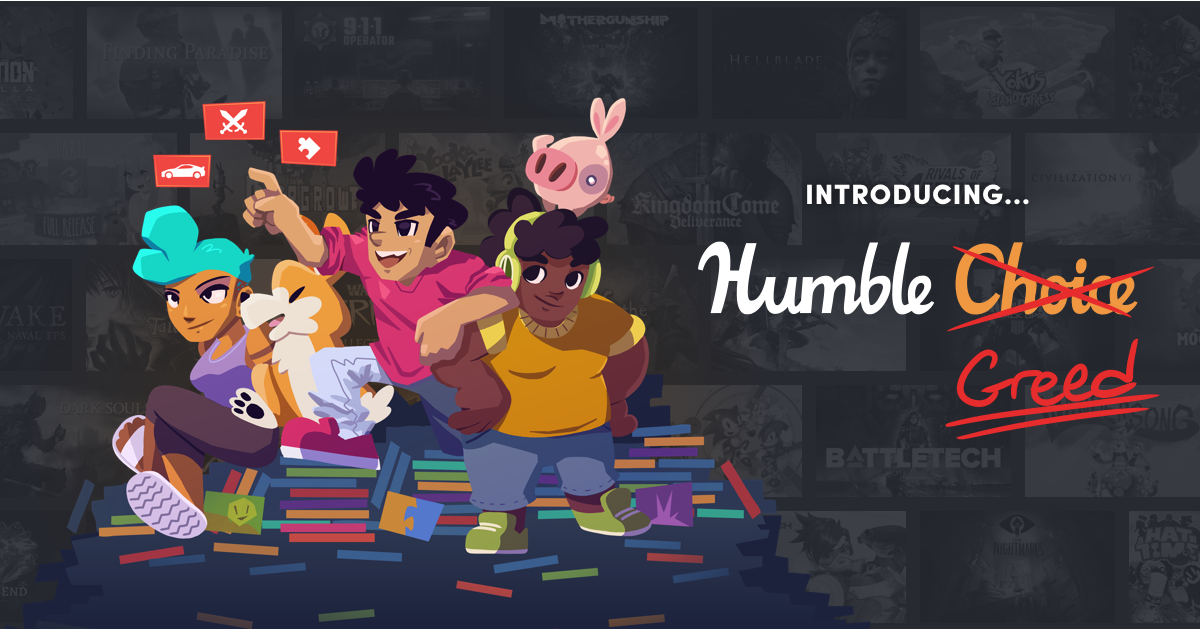 The result of IGN's 2017 acquisition starts to show.
Yesterday, Humble Bundle announced that they're converting their Humble Monthly subscription programme to Humble Choice.
Humble Monthly traditionally worked like a loot crate. It gave you a bunch of mystery games for a reoccurring subscription fee but showcasing and giving you at least one major game to play right away for that month. The rest of the games would be locked until they are revealed after the last day of being able to sign up for a month's respective bundle.
Now, Humble Bundle is doing away with the original, straight-forward subscription plan and has now given us four tiers of Humble Monthly…oh, wait, I mean Humble "Choice". (눈_눈) Thus adding confusion to what was initially a simple subscription process.

Benefits?
Well, honestly…there's next to none.
One of the new "benefits" of Humble Choice is that there's no more mystery behind what games you'll get, as they'll all be revealed from the get-go now.
While this may have caused some to hesitate to buy a Humble Monthly subscription for the month, I actually liked the "mystery" aspect about Humble Bundle Monthly. It was kind of exciting to see what surprise games you would get at the end of the month, even if they mostly comprised of smaller indie games.
Another supposed "benefit" of Humble Choice hilariously reveals the redundancy of its Classic tier. The gimmick of Humble Choice is that you choose from a selection of games to keep, but with the Humble Choice Classic tier, you keep all of those games regardless, so it proves to be pretty non-sensical.
HOW HUMBLE CHOICE IMPACTS YOU
To show our thanks, we're converting existing subscribers to our best plan yet! If your subscription is active when we switch to Humble Choice, you get to keep 10 games every month, up to 20% off the Store, and access to Humble Trove. All for the same price you pay today.
Jesus Christ, they even admit it themselves that the existing plan, renamed as the Classic tier, is the superior option. This means that once Humble Monthly is retired and unavailable, brand new subscribers who pay the exorbitant $20USD Premium tier are getting a horrible deal, despite almost paying twice as much as the original/classic plan.
And don't even think about cancelling either, because if you do, they will kick you out of the Humble Choice Classic tier forever. This essentially makes you a hostage to their subscription plan so you're pressured not to terminate your subscription at all.
Someone mentioned that you can pause your subscription for several months in a row, but I honestly wouldn't be surprised if they eventually scrap it as Patreon has.
Because f**k what the consumers want, right? ¯\_(ツ)_/¯
Also if you're like me who was gifted a Humble Monthly this month because your credit/debit card isn't working, so you had to ask your friend to get it for you because it turns out that prepaid VISA cards aren't accepted, well, you're out of luck.
If you have been gifted a Humble Monthly subscription from someone else, then you will not be automatically converted to the Classic plan for Humble Choice. However, if you have gifted the subscription to yourself you have set up recurring payments for your subscription, meaning you will already be subscribed.

Source: Humble Choice Classic Plan FAQ
Patreon's Similar Restructuring.
Patreon did something similar earlier this year with its creator programme, dividing their system into tiers and taxing you depending on a tier you picked. The more features that came with a tier, the higher the commission fee.
Existing creators before the restructuring implementation were automatically given access to Patreon Pro's features, which includes all of patreon's original creator features before the plan change, while still paying the regular 5% commission fee (the same as the now implemented 'Lite' tier).
And to Patreon credit, they didn't try to spew some crap about giving the consumer more "choice". They were pretty straight-forward that it's to help to make the company more successful financially, and that's something I can respect.
"Patreon, meanwhile, argues that this will help it become profitable while offering different features to campaigns of vastly different sizes."

Source: Patreon is raising fees for new creators next week — but not for existing users.
Unfortunately, I ignored the whole restructuring plan Patreon was doing at the time because I didn't have any patrons, so when it came time for me to get into the patreon biz again, I got a worse deal, but I was still able to work around it with little fuss.
Do not support this kind of anti-consumer garbage. 
I didn't think there was a catch for this month's Humble Bundle Monthly being the best one since the April 2018 Humble Monthly that included God Eater 2: Rage Burst (which came with God Eater Resurrection), Deus Ex: Mankind Divided and Mafia III.
However, I was terribly mistaken.
Usually, you would expect to see one major featured title like this month's Call of Duty WWII, but they seem to have purposefully knocked it out of the park with three AAA games from Activision from the very start (Call of Duty WWII, Crash Bandicoot N.Sane Trilogy, and Spyro Reignited Trilogy) to get as many people on board with Humble Monthly before the change to Humble Choice takes place.
I'm sorry, but I for one cannot consciously support a company who does what Humble Bundle has done with their loyal customers. It's not even like they're being straight with us like Patreon was by saying it needed to be done because the original plan wasn't too financially viable, but they're instead trying to fool you into thinking you're getting a better deal when the actual reality is far from the case.
Take note that Humble Choice's Basic plan charges a higher price than the original Humble Monthly subscription model, yet it gives you far less value for what it offers.

I've purchased many games and bundles from Humble, but now I have a reason to take my money elsewhere to other bundle sites like Fanatical.
As much as I wouldn't recommend giving your money to EA either, despite my hypocrisy, their Origin Access Basic makes Humble Choice Lite look like an absolute embarrassment in comparison considering they cost the same $5 USD per month.
Origin Access Basic offers you a stellar catalogue of games, including games outside of EA's publishing umbrella, at a very low and enticing subscription fee. And now is a better time than ever to give it a try if you haven't since they're giving away a free month of Origin Access Basic for simply activating two-factor authentication.
At first, I was sceptical when IGN purchased Humble Bundle, but now we know that they were full of crap when they said: "Our readers and customers have always come first — and that won't change".
---
✿ Special thanks to

Sophie Stormwind

for being my first patron and

Jessa Hurty, Mike

and

someone

for buying me my first coffees on Ko-Fi! ✿
✿ Special thanks to

Nat Roberts, Stephanie Elise, and Deanna & Maddison

for contributing to my Paypal in my time of desperate need! ✿
Love you all so much! o(TヘTo) *big kisses and hugs* ♥♥
Loading Likes...