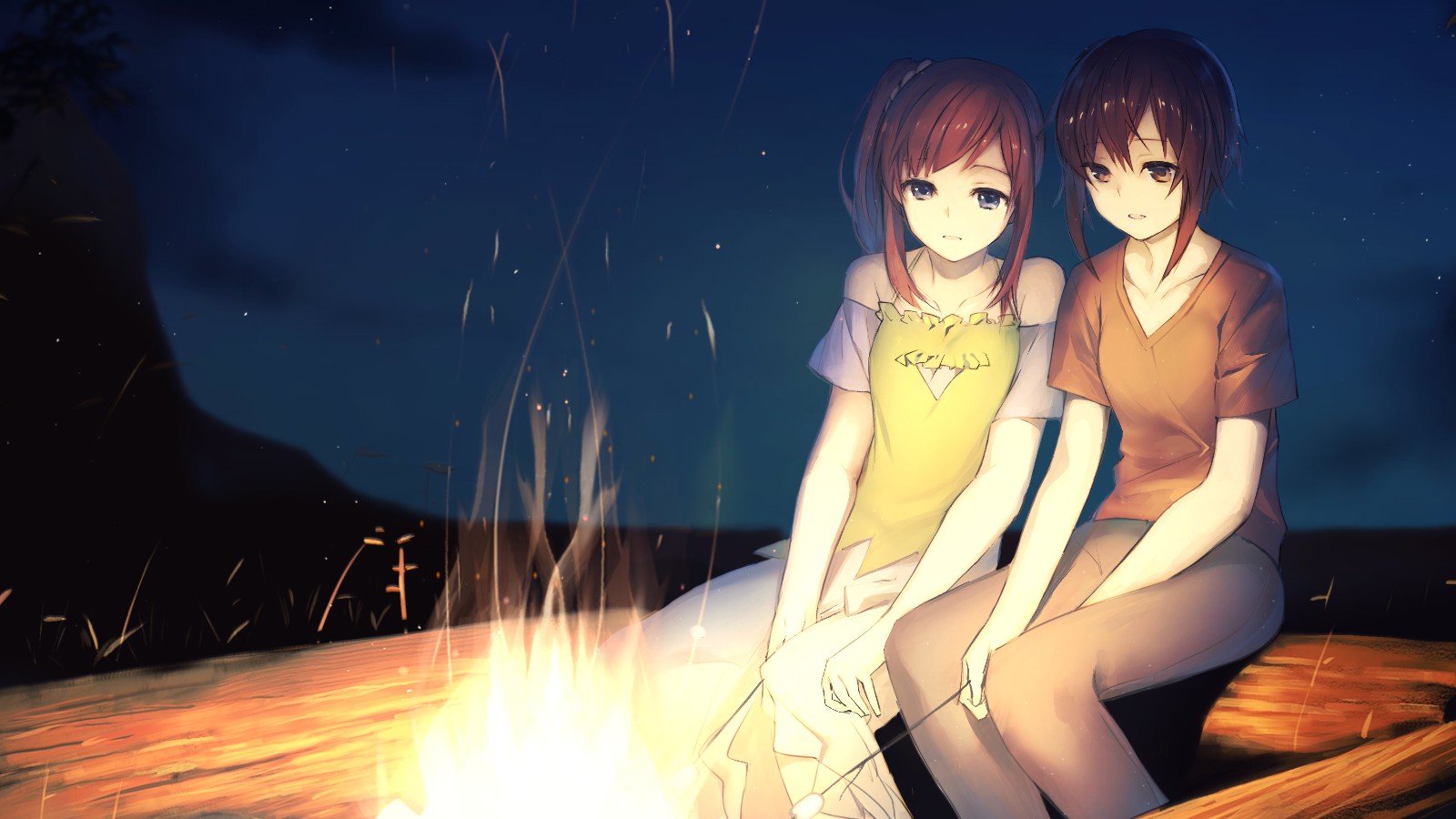 Reviews
[VN Review] Highway Blossoms – A Visual Novel Saved By Its Voice Acting.
It has its highs and lows.
I was honestly not sure how to rate this. On one hand, the player is treated to a quite a boring story, however, the characters and voice acting redeemed it so much that it's hard to give the visual novel a bad score, or just flat out not like it for that matter.
This review is mostly spoiler-free. There is one spoiler, but I've highlighted it so you can avoid it. 
Loves/Hates:
Lovable Characters

Emotional

Gorgeous artwork/illustrations

Amazing voice acting

Uninteresting story

Feels padded with filler

Cliche
Story
Highway Blossoms is a kinetic romance visual novel featuring two characters, Amber and Marina, who meet each other in the desert after Marina gets stuck there. But Marina isn't there for any reason, she's there because she's on this hunt to find treasure buried by someone, and she's not the only one doing so as this is quite a public event. This leads Amber and Marina on an adventure to find the treasure, while also developing their relationship with each other.
So far so good, yeah? Well, that's the thing: It isn't. The story/plot of Highway Blossoms is uninteresting enough that I wouldn't blame anyone if they dropped the visual novel without finishing it. There's a lot of the story that feels like filler and the plot of it doesn't help. as there's only so much you can get out of a "Treasure Hunt" story unless you do a wild take on it.
And while rushing character development isn't a good thing, the lacklustre story only makes the player wish that Amber and Marina would hurry up and realise their feeling for each other sooner instead it being delayed to make the story longer.
There was hardly any emotional tension between the two characters until later on in the visual novel. And while it was impactful, it feels like it took too long to get there as the player. Hell, I didn't even think they were sex scenes in Highway Blossoms because it took so long to get to those points I almost thought I had the all Ages version by accident.
Story Spoiler:
---
The emotional part I'm referring to above is where Amber and Marina get in a fight after Amber feels like she doesn't deserve Marina. It is indeed my favourite part of Highway Blossoms and it practically had me in tears thanks to Jill Harris' performance as Marina. however, Amber uses the cliche trope of making Marina hate her to dump her and the classic "I'm trying to protect you from me" excuse. I guess it's not that big of a deal for some people, but for me it highlights the flaws of the visual novel's writing even more.
---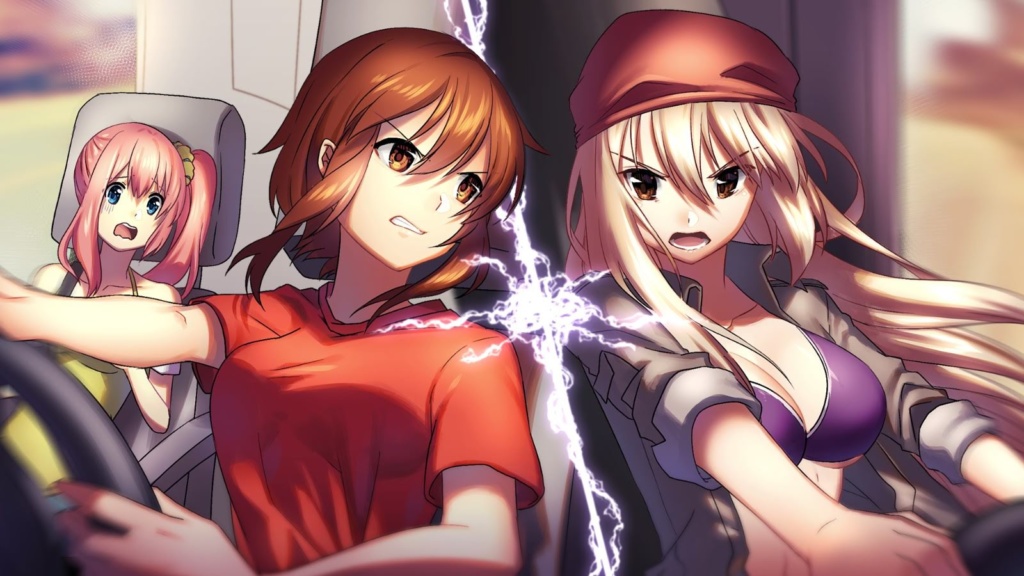 Characters
However despite the story, Marina and Amber are honestly what saves this visual novel from feeling like a slog. And I assure you that their respective voice actors is what stopped me from giving this a lower rating than I was going to give it.
Marina and Amber are genuinely fun and loving characters. They are written quite well and the exceptional performance by Katie Dagnen as Amber and Jill harris as Marina just put these two characters on a whole other level as they were not only lovable but also really believable.
Amber and Marina obviously aren't the only characters in the story. They will meet other treasure hunters, Mariah and her crew, which serve as their rivals. I just gotta say that I too adore those characters very much. The story is honestly at it's best when Mariah is in the mix and it makes me wish that was indeed the case for most of the visual novel.
Overall, I think the selection of voice actors for this visual novel was superb.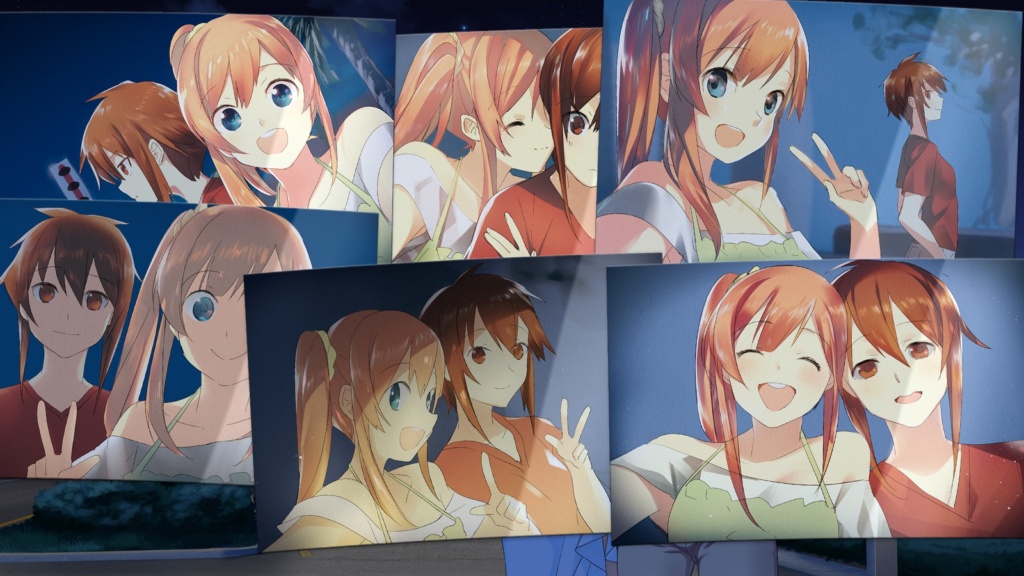 Art
From what I understand, Myuto and Shiyun were the artists who played the biggest part in Highway Blossoms' gorgeous illustrations.
I honestly don't have much to say here as I usually buy a visual novel based on its awesome artwork and Highway Blossoms was no exception.
Conclusion: Worth the buy?

It really depends on your taste honestly.
If you're more like me and who prefers something that's quick to the point, has a deeper story and doesn't require much time investment, then no, I unfortunately can't recommend Highway Blossoms.
However, if you're a patient visual novel player who can sit through both the good and bad of Highway Blossoms for 9-12 hours, then I would say go ahead and your patience may be rewarded. You're most likely going to adore the characters and fall in love with the voice acting. And with the price of only $13 USD, you don't have much to lose by supporting the devs in their future projects.
My Rating: 
★★

★

★

 

of five stars.
---
✿ Special thanks to

Sophie Stormwind

for being my first patron and

Jessa Hurty, Mike

and

someone

for buying me my first coffees on Ko-Fi! ✿
✿ Special thanks to

Nat Roberts, Stephanie Elise, and Deanna & Maddison

for contributing to my Paypal in my time of desperate need! ✿
Love you all so much! o(TヘTo) *big kisses and hugs* ♥♥
Loading Likes...