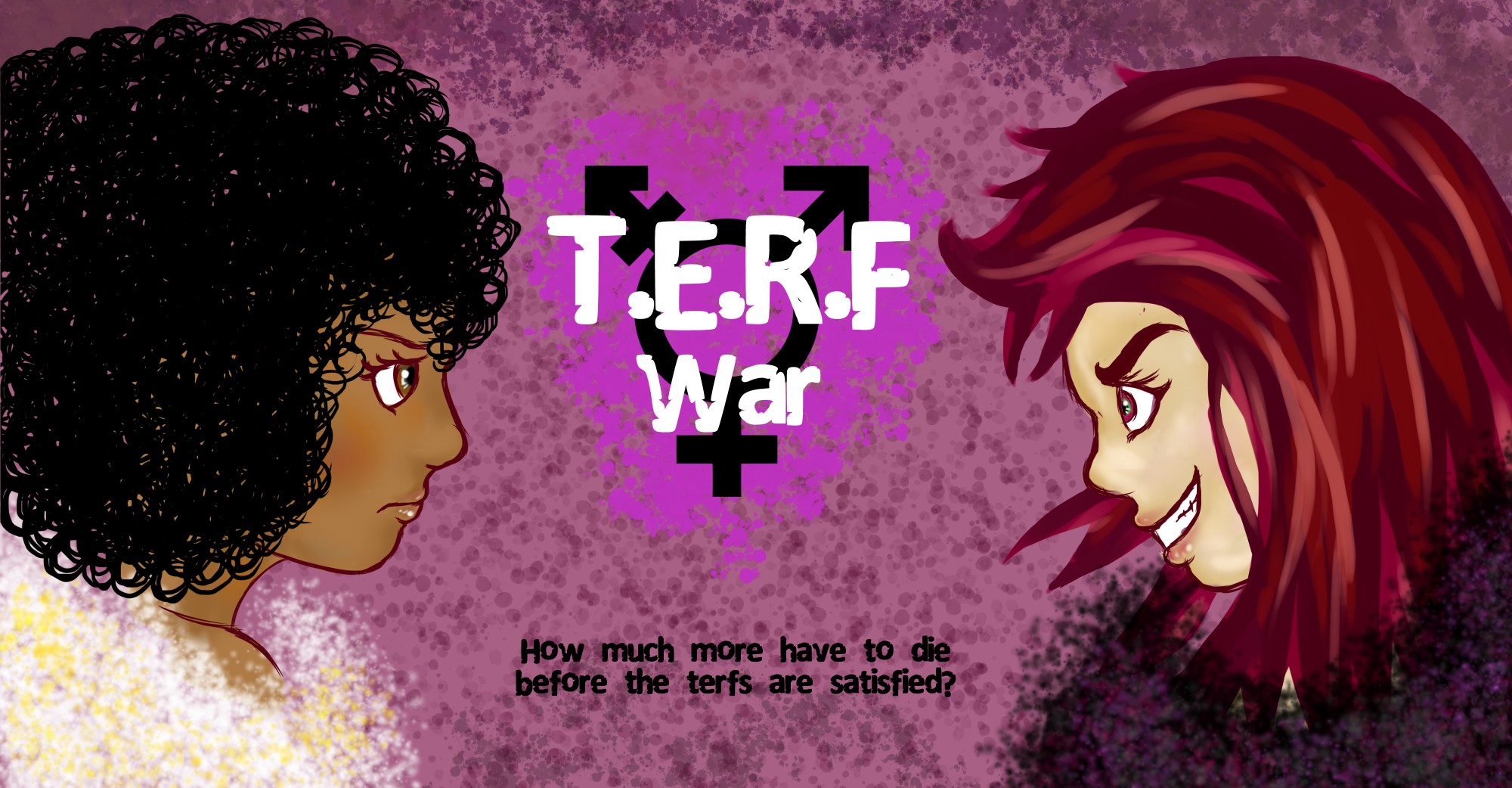 T.E.R.F War
Chapter 29: "Training Day".
"Will you take it easy?!", I exclaimed to Chante as she sparred with me in the H.Q's training room.
"Terfs won't take it easy on you when you're out in the field!", Chante shouted as she palm struck me to the chest, knocking me over. God that hurt!
I was breathing heavily from exhaustion. Chante has been relentless all morning trying to get me to counter her with my demi-human powers. But that's just the thing: They won't activate!
"Maybe they only activate once every 24 hours?", I tried to find a ridiculous excuse for why my powers weren't activating when fighting Chante.
"That would make you the lamest demi-human I have ever come across", Chante said in disappointment, "At least the ones who have weak powers balanced it out with their physical strength and combat skills. At this rate, you'll just be a punching bag for Athena and her lackies."
Yeah, that admittingly doesn't sound pleasant.
"Demi-humans manifest their abilities when their emotional state of mind is at its peak", Dr. Price spoke through the smartwatch I was given for the day. She was monitoring from afar while trying to get data about me from the hormone patch she had imprinted on my arm.
"Yeah, but Emilia wasn't in any distress back with Liriah, which makes this all the more strange.", Chante said puzzled.
Suddenly while thinking, a wicked smirk formed on Chante's face.
"Unless maybe we need to chop off some of your limbs?", Chante's black blade popped out of the back of her right hand as she looked at me.
Wait…wait, WHAT?!
"She's not serious, is she?!", I asked Dr. Price with worry.
"I doubt it, but then again, April is desperate for results and so are we.", she spoke as if it was no big deal.
"You people are insane!", I started to sweat from my brow.
"Ready or not, here I come!", Chante dashed at me.
What am I going to do? I have no idea, but Chante is rushing at me with some pretty fast agility and I'm running away as fast as I can.
"Emilia! You're not going to going to be able to run away from a fight!", Chante yelled at me as she chased me across the room.
"I can try!", I countered.
---
Location: G.A.T HQ's Basement.
The room was quiet. Nothing could be heard.
Suddenly a vortex of energy swirled and formed, creating a light energy bubble that expanded and then dissipated. Six persons emerged, all girls, and they were armed with their own unique weaponry and demi-human abilities.
"We're here", Alice spoke through her mask, "This is G.A.T H.Q."
Alice looked around to see if anything had revealed their location. Everything seemed to be going according to plan so far, but God knows how long that will last.
She looked back at her team of demi-human mercenaries, all from Athena's group.
"You all have your orders: Retrieve Nathaniel Blake and kill any G.A.T members that get in your way. Athena asked for results and I intend to give it to her."
Everyone nodded.
"Long live Athena, Goddess of the New World."
Part II – End…
…To Be Continued In 'T.E.R.F War – Part III'.
---
✿ Special thanks to

Duna Haller

for being my new patron! ✿
✿ Special thanks to

my beloved Facebook friends

and

Rainbow Railroad

who contributed in my time of desperate need to get to Canada! ✿
✿ Special thanks to my bestie

Nat Liong

for spoiling me with his love and support! ✿
Love you all so much! o(TヘTo) *big kisses and hugs* ♥♥
Loading Likes...