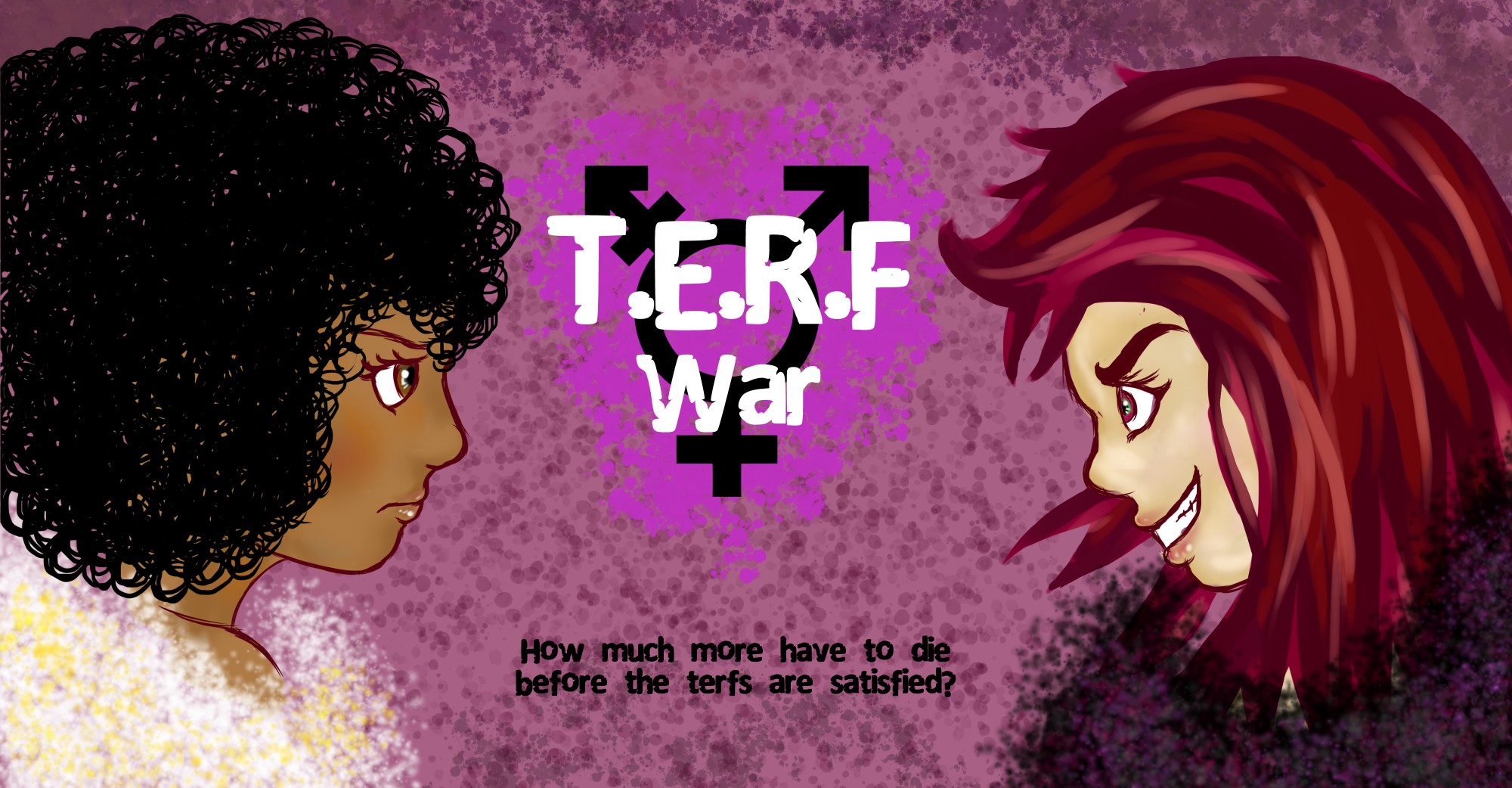 T.E.R.F War
T.E.R.F War: Chapter 18 – "Facing The Devil".
T.E.R.F War
Chapter 18: "Facing The Devil".
Athena. T.U.R.F. Sasha. Chante. G.A.T.
I remember everything now.
Everything started rushing into my head, carrying me through the memories of the last few years. What happened just now with Audrey, it that seemed like moments ago in the classroom but it actually happened two years.
Fast-forwarding to my most recent of my memories, Chante and Sasha came to mind. The last thing that happened after defeating Rachel and Ava, was Rachel's body erupting into a big, fiery explosion.
Chante told Sasha and I to run away…but it was too late. We all got caught in the explosion. Everything happened so fast.
*I'm…dead?", I asked, not sure who I was even asking.
This dark void could be the afterlife, but that doesn't explain…her. This crimson hair girl in front of me. This is Athena, the mastermind behind the atrocities so far.
Her outward appearance says she's probably just a girl with a superiority complex, but that darkness I can feel radiating from her tells a different story; a more sinister story. This is the leader of T.U.R.F. The one that wants the destruction of trans people everywhere.
When we stood before Ava, Chante called her "The Crimson Death". The title fits her considering making eye contact with this girl felt like looking into the eyes of a predator. In this scenario I guess I would be the prey and Athena would be the predator fifty times my size.
Conviction overtook me. I grit my teeth and squeezed my fists. I wasn't going to let her scare me, especially a terf of all people.
"Where's my father?", I mumbled. I looked her straight in the eye to show her that I wasn't afraid of her.
Athena locked eyes with me and smiled cruelly as if willfully ignoring my question.
"I said where's my father?!", I shouted this time, but all I did was blink and Athena had suddenly disappeared from my sight. I looked around in front of me, but she completely vanished. Where the hell did she go?
"Either dead or…dying", Athena whispered in my ears behind me.
My heart sank. I sprinted a bit from where I was and turned around hastily, but I fell over on my back in the process. My intimidation tactic failed and instead Athena was the one that had my body shaking. She looked back at me from where I initially stood, with a tint of bloodlust in her eyes.
There was no hiding it: I was scared. What she told me only made me all the more terrified. If my father is being held captive by someone like this, he stands no chance. I could practically feel the psychopathy radiating from Athena.
"Or perhaps he's alive waiting for you to rescue him, Emilia", Athena spoke, "I would hurry if I were you. I think he's about ready to give up on life.", Athena laughed as if saying something highly amusing.
I started to tremble. Her aura was already menacing, but that laugh of hers felt so wicked and ominous that I could practically feel it in my soul, whispering despair into my heart. Any will I had in me to save my dad was slowly fading away. Whatever Athena is, I stand no chance against her. I started to cry, realising this may just be the end of everything and just how powerless I was to stop any of it.
I'm sorry, Dad.
Athena suddenly went silent as she looked in my direction. She smiled.
"Well, well", Athena said, "I'm glad you decided to join us."
"This fight is far from over", someone laid their hand on my shoulder from behind me. I know that voice. I looked above me and almost cried.
"Chante!", I shouted.
"Glad to see you too, Emilia", Chante smiled back, "Come on, I'm not about to let this bitch get the best of you. You're not alone in this, far from it. What do you say we give Athena a fight?"
Chante held out her hand towards me. I nodded and wiped the tears from my eyes. I took her hand and Chante lifted me from the non-existence floor. It was then that a smile filled with enthusiasm and hope sprouted from my face.
To Be Continued…
---
✿ Special thanks to

Sophie Stormwind

for being my first and sole patron and everyone who contributed to my Ko-Fi! ✿
✿ Special thanks to

my beloved Facebook friends

who contributed to and shared my GoFundMe campaign in my time of desperate need to get to Canada! ✿
✿ Special thanks to my bestie

Nat Liong

for spoiling me with his love and support! ✿
Love you all so much! o(TヘTo) *big kisses and hugs* ♥♥
Loading Likes...