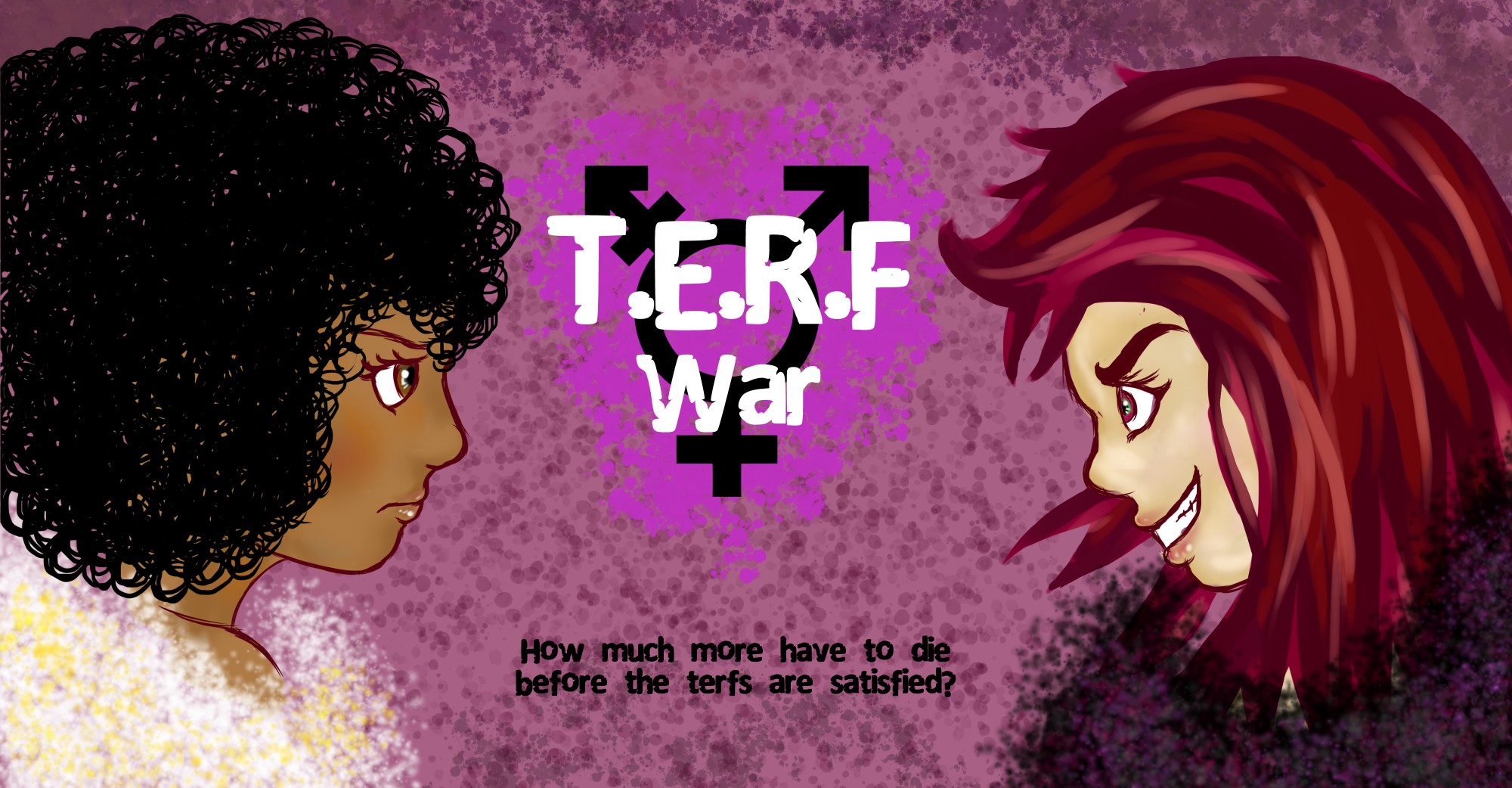 T.E.R.F War
Chapter 9: "Chante vs. Ava".
As a kid, I've always wanted to see a superhero take down a villain up close. But now that I was in the midst of one, especially when I was the prize to be had, I was having huge regrets.
Chante and Ava, in her super form, were going at it intensely. Sasha and I stood by and watched, as Chante instructed Sasha to keep me safe.
Chante swung each of her black swords with quick precision and ferocity, slashing at Ava's thick and scarily abnormal black body multiple times. The only problem was that Ava's new form was practically impenetrable. So much so that Ava barely made any attempt to block Chante's attacks and instead focused on landing a fatal punch or kick to Chante.
This made me really glad that Chante was quick on her feet. She dodged all of Ava's attempts at countering her strikes.
Unfortunately, it would seem as Chante's luck started to run out. Ava took her by surprise and went for a kick to the face, but Chante used her blades as a shield just in time.
The kick landed hard and sent Chante spiralling a bit out of Ava's range. Chante stood on her feet fiercely and took a stance with her swords that radiated vigour.
"Impressive.", Ava complimented, "As one would expect from a Fuser demi-human."
Fuser? That's one of the demi-human types Sasha and Chante were talking about. If I'm correct, they're called fusers because their bodies are fused with a certain material or element. If that's the case, even with Ava looking like some kind of strong brute from a video game, she's still going to have a hard time fighting against Chante.
"It's a shame you allied yourself with a group like G.A.T. Someone like you could have achieved so much under Lady Athena's guidance to save women everywhere."
"You call cold-blooded murder saving women?", Chante rebutted with a bite.
"I will spill as much blood as I need to if it means saving our own.", Ava started to cracked her neck, "If you can't do what it takes, then you've already lost."
I could see slash marks over her body. Chante got some small wounds as well, but nothing major.
They both eyed each other with intense fire in their eyes. No matter what was going to happen, it occurred to me that someone was going to die here. It could be Ava…or Chante.
The air went silent for a few seconds.
Chante dashed directly at Ava. I say dashed, but it was more like Chante leap forward with a dash so quick that if you blinked, you would have missed it. Ava threw a punch right into Chante, but Chante disappeared immediately as Chante's afterimage faded from in front of her.
In a millisecond, Chante was behind Ava and swung her two black blades directly for her neck. Ava was quick to react however, and used her arm to shield her. It collided so strong with Chante's swords that I could feel the shockwave from where Sasha and I stood.
Ava and Chante were now at a standstill with their weapon of choice locked in combat. Both of them fiercely put pressure on each other.
"I've heard those black swords can cut through diamond.", Ava looked directly at Chante with taunting eyes, "Sadly for you, my body is ten times harder than diamond itself. Your blades are nothing but a joke to me." Ava taunted, baiting Chante so that she would do something stupid. However, Chante kept her composure.
I looked to Sasha who was paying high attention to the fight.
"Shouldn't we help her?", I asked Sasha as my worry grew.
"Chante can handle herself.", Sasha reassured with an optimistic look, "Our first priority is to keep you safe, even if we get a few scrapes or bruises".
Sasha gave me a warm smile that made me give her a reassuring smile in return.
"Plus Chante would never forgive herself if she lost to someone like that. She takes the fight against terfs super seriously and is pretty awesome at it too.", Sasha's expression changed into a more gloomy look, "Sometimes I wish I could just be as amazing as her to be honest."
The cheerful Sasha I was beginning to know was showing a more vulnerable side of herself. From the changed in her voice, it seemed like she envied Chante highly, even though I could tell she herself was already great on her own.
Sasha and I continued to look in the direction of the fight. So much so, that we almost didn't notice a small ball rolling from behind to the front of us.
The look on Sasha's face went from confused to complete horror in the blink of a second.
"Emilia! Get down!", Sasha said as she jumped toward me.
Before I had time to react, the ball went off with a huge bang, erupting into an engulfing explosion that swallowed everything in a flash.
To Be Continued…
---
Loading Likes...